Thanks to All of Our Volunteers!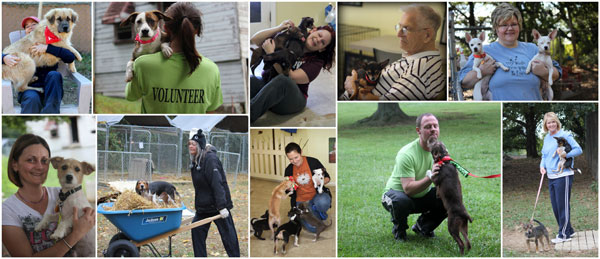 The Humane Society of Northwest Georgia is an all volunteer organization with no paid employees. The majority of volunteers help at the shelter taking care of the animals. We have three shifts each day consisting of a minimum of two people and up to five or six at a time.
The shifts are:
AM Shift….. Usually starts around 7:45AM and may take as long as two hours
DAY Shift..  Usually starts around 12:30 PM and again can take up to two hours.
PM Shift….   Usually starts around 6:00PM. This shift usually has the most volunteers and can complete the assignments in an hour or so unless there is more playtime with the animals.
Each shift has a supervisor called a KEY person who is in charge, gives direction and of course has the keys to gain entry to the building and kennel compounds. While one or more take care of the Cattery where the cats and kittens are housed, the others start working with the dogs and puppies. The Cattery people usually get done in about 30 minutes or so even with some short play time with the cats. Their duties are to scoop litter boxes, sweep the floors, make sure there is fresh water and food in the bowls to last until the next shift comes in and starts all over again. When the Cattery is finished, they move over to the "Clinic" building to help with the dogs.
Some will walk dogs while others clean the cages and kennels. There are two compounds on the property where larger dogs are housed in 10 X 10 covered pens. These dogs are let out to run and play each shift while their pens are cleaned and fresh water and food is placed out.
As you can see by the duties, the short shifts with only two people can take a while to complete their duties, three or even four people are ideal . A monthly schedule and memo's are emailed out to all volunteers as changes occur.
Online Volunteer Application – Please fill out if you are interested in Volunteering!