These are dogs and cats that have been up for adoption for at least 6 or more months. Due to their age or "looks", rather than being judged on personality, these pets are passed over for adoption. We feel that these unwanted pets deserve a chance at life and we will not put them to sleep just because they cannot find forever homes. Good things come to those that wait.
The problem is, each long time resident dog cost about $20 a month for Flea and Tick treatment and Heartworm preventative. Each cat is about $15. This doesn't even take into account the yearly vaccinations or food.
During the warmer months, Heartworm infection is a common occurrence with our incoming animals. Heartworm treatment is not cheap. Other medical expenses are also factored in. If the funds are not available, we will not be able to treat them. That is why sponsors are needed for our long-timers. Each sponsored animal will free up funds to treat new dogs and cats and give them a chance at life.
Of course we would love to find homes for these pets because every space taken by these animals means one space less for a new animal that could be adopted out more quickly, which is another life saved..
If you can help financially, please send donations with a clear indication of sponsorship and which pet you would like to sponsor.
Chloe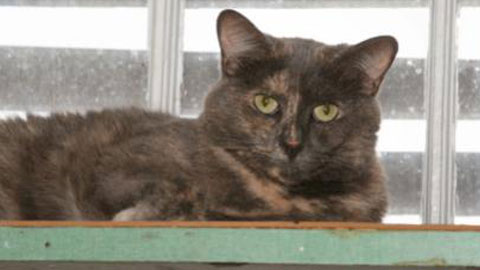 Gabi