Yes, Luke there is a Santa Claus!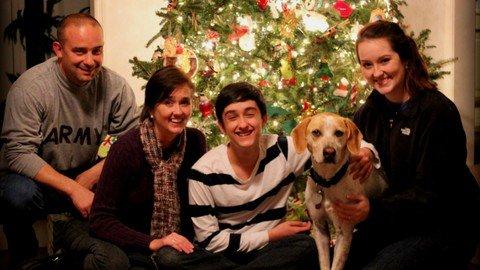 Yes, Luke there is a Santa Claus and you will not spend another Christmas at the shelter. You are home now to share Christmas with your new family. I don't know about the other volunteers but I couldn't ask for a better gift than this. Luke had been with us for 2 years and just because he was shy he had been looked over time after time. The Long family adopted Sasha a few months ago from us and she was also shy, but she has done great so they decided to give Luke a chance. They visited with Luke 3 or 4 times so he would be more comfortable before they took him home. He left tonight for his new home and he did just great. They stopped and bought him french fries on the way home, one of his favorite treats. He came in and checked everything out and by the time I left he had claimed his new family. Merry Christmas Luke!! We will miss you at the shelter but we are thrilled you have a home.
Our longest resident shelter dog!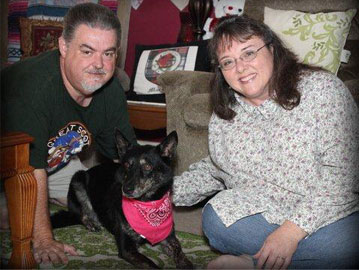 Our longest resident shelter dog was finally adopted after three and a half years. Teri came to us as a referal dog and was extremely shy. She did not show well and would always hide in her dog house when someone came to look at her. Our dog trainer, Vicky started working with her so she would become more adoptable. Her efforts paid off and Teri finally found her forever home. Vicky took her for home visits before she was adopted to make sure she would fit in. Teri is very happy in her new home and her new family just adores her.
Update on one of our favorites- Zoey!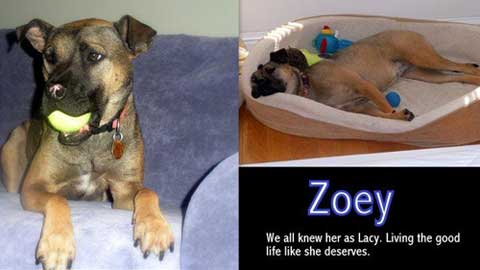 Here is an update on one of our favorites- Zoey, or as we knew her Lacy or Lazy. Nathan reports that she is doing great and really coming out of her shell. She listens well to verbal commands and he lets her spend time off leash while she is in the yard. She is a bed hog, and not allowed in the bed, however during thunderstorms, Nathan says she is coming in the bed and he has no say in the matter! (Makes me feel bad when I think about her on the hill during storms…) Looks like Zoey is enjoying her soft bed and lots of toys- I am so glad that she is pampered!  Nathan and Zoey send hellos to all the HS volunteers and were sorry to miss the Strut, but Nathan volunteers at a sports camp in Alabama that weekend and couldn't be there. They promise to visit soon!
Millie Says "Thank You" for her new home and sends her best to the HSNWGA!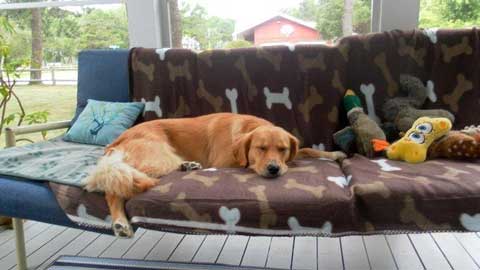 "Hi there,
Summer is more than halfway over, and Millie has enjoyed every minute of her Cape Cod vacation. She loves the screen porch where she rests up from her activities. Here she is just back from a walk to the beach surrounded by her "people". She is also going to school;… she has proven to be a very fast learner. We're now working on heeling which works better in the classroom than it does outside where she is tempted by the multitude of bunnies that seem to be taking over our neighborhood.
She sends her best to all…"   B.
A Quick Message about Chewie (formally Jacob)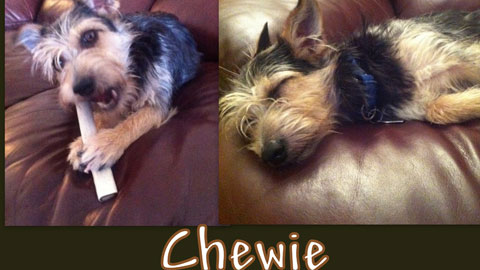 "I just wanted to drop you a quick message to let you know how Chewie (formally Jacob) is doing.
Chewie is a great dog. He hardly barks (unless there's a dog right outside the front door), and he's made fast friends with many of the other dogs in the complex. He is a world class chewer. I've watched him tear down toys and rawhides in MINUTES where a lesser dog would take days or even weeks. As such, I've begun giving him deer antlers instead of rawhide, and now he'll happily lay across my lap and chew contentedly until he falls asleep.
Just last week, he finished his first round of doggie training. As such, he's begun to be very well behaved. He can sit, stand and lie down on command, he'll sit and stay in place when I leave the room (until I tell him to move), and he's gotten very disciplined at obeying commands to leave things alone on command. Everyone remarks about how sweet he is, and at how playful he is with other dogs. For some reason, he's afraid of dogs his size, but loves to jump and play with dogs much bigger than him. Over a few hours visit with friends, he completely exhausted 2 full grown Labs, and he still had energy left over.
I've attached a couple of pics for you. One is him after a long day at the dog park, and the other is him enjoying one of his antlers.
Chewie is a good dog, and I think he's really happy here." Kevin Welch
If you are interested in one of our adoptable pets, you can expedite the adoption process by filling out an on-line application.