The Humane Society of NorthWest Georgia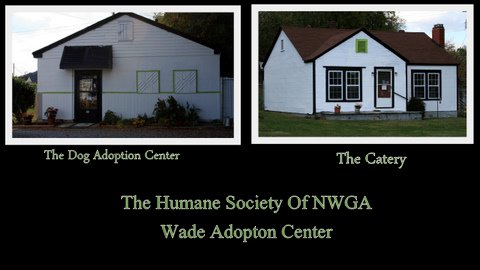 History
The Humane Society of Northwest Georgia was founded in 1977 as the Dalton Humane Society, Inc.  In 1988, the name changed to Humane Society of Northwest Georgia, Inc.  In 2006 the current location was leased  from Dr. Charles Wade's family.  October 2008, the Advisory Board formed.
Current
We currently help an average of 378 pets per year.  We are excited about the future growth of the Humane Society of Northwest Georgia and our ability to better serve the animals and citizens of our community.  Our future plans include a capital campaign to raise funds for a state of the art facility that you can be proud of; one that welcomes people in to learn about animal welfare and humane care.  A place where children can come to learn values of kindness to people and animals, values, such as fairness, compassion, respect and encourages good character.  A place where adults enjoy and benefit from volunteering to care for a pet in need, adopting a pet needing a forever home or simply holding meetings.  A temporary safe haven for pets of domestic abuse victims.
Vision
Our vision is a community where no healthy adoptable pets are euthanized.  Thank you for your interest in learning about us by visiting our website.